Kathin Beauty Salon
(512) 243-8716
Kathin Beauty Salon in Austin, Texas provides comprehensive beauty and styling services such as hair techniques, waxing, and other specialized treatments. Its experienced staff offer a relaxing atmosphere for customers looking to change their hairstyle, give themselves a makeover, or wax away unwanted hair. In addition, Kathin Beauty Salon also offers a wide range of spa packages for those looking to enjoy a complete spa experience. Kathin Beauty Salon guarantees customer satisfaction and strives to make every visit an enjoyable one.
Ratings for Kathin Beauty Salon
QuickTip: Combined ratings to enhance the accuracy of honest evaluations.
google

facebook
Photos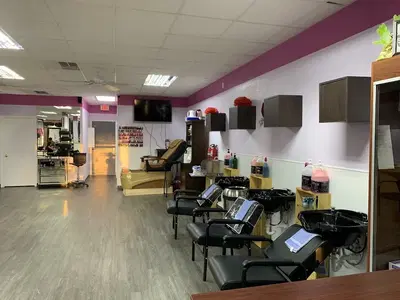 Reviews for Kathin Beauty Salon

jay_ v.
kathin she selfish I was trying to have my shop at the same plaza 9515 north Lamar the manager asked Kathin African hair braiding coming to this plaza Jamie told me Kathin said no she does African hair braiding too and Kathin said only her could have a salon in this plaza. When I had called kathin I ask her if she does African American hair she said no I don't know who lied in this situation Jamie or Kathin I've been waiting for Jamie for 3-weeks straight there was guy that was gonna give me a shop but Jamie told me to wait for him now all of a sudden everything downfall
moses v.
The owner, Anna made an appt. for me with 1 of her employees and the employee did not show up.
anna b.
I called to see if they had an opening and when she asked if I speak Spanish I said no she hung up on me.
Business Hours
| | |
| --- | --- |
| Sunday: | 9:30 AM - 3:30 PM |
| Monday: | 10:00 AM - 7:30 PM |
| Tuesday: | 10:00 AM - 7:30 PM |
| Wednesday: | 10:00 AM - 7:30 PM |
| Thursday: | 10:00 AM - 7:30 PM |
| Friday: | 10:00 AM - 7:30 PM |
| Saturday: | 9:30 AM - 7:30 PM |
Nearby Salons and Stylists