Hair Salons & Beauty Stylists in
la cañada flintridge
La Cañada Flintridge, California, nestled in Los Angeles County, is known for its picturesque location at the base of the San Gabriel Mountains. It is a charming community with a small-town feel, offering residents and visitors a variety of amenities. When it comes to hair salons and beauty stylists, La Cañada Flintridge boasts a vibrant grooming scene, with several top-notch salons and talented professionals. From traditional barbershops to trendy, high-end salons, there are options to cater to every individual's style and preference. Whether you're in need of a routine haircut, a glamorous updo for a special occasion, or the latest beauty treatments, La Cañada Flintridge has got you covered.
Facts about
la cañada flintridge
State: California
County: Los Angeles
Incorporated: Yes
Timezone: PST
Population: 20.6K
Density: 2388/mi2

LocalStylist Salons & Stylists: 1
Top Hair Salons & Beauty Stylists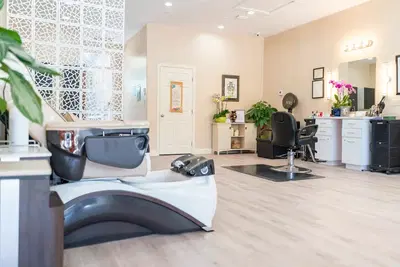 1365 Foothill Blvd
La Cañada Flintridge, California
Salon One La Canada in La Cañada Flintridge, California is a complete hair and nail salon. It offers services such as waxing, color treatments, highlights, haircuts, cond...